In early 1994, with a sense of desperation and after being fired from the art department at Elektra Records at 75 Rockefeller Plaza, I decided to pursue my work in a more direct way. The first step in this process was to strike out on my own economically. I formed the Apollo Program Studio. This was the name under which I would attempt to scratch out a living. More importantly, it was at this moment I decided to pursue an ambitious body of work that reflected my core values regardless of it's effect on my ability to pursue a viable career as a designer. So over the course of the next twelve months I spent the lions share of my time working alone on a collection of pop songs, graphics, programming, electronics, spoken word poetry, posters and typography. This work became "Throwing Apples at the Sun." At that time I was doing design work for Peter Clancy the Director of Marketing at Nonesuch Records. Nonesuch is part of the Atlantic Records family. When I completed "Throwing Apples at The Sun," I sent a copy to Peter who in turn forwarded a copy to the head of A&R at Atlantic Records. Simultaneously, I reached out to Rudy Vanderlans at Emigre in California. The A&R department at Atlantic expressed interest in my work, but was concerned that the package was too much "art." Rudy Vanderlans at that point had released a very successful independent record from Honey Barbra and was looking for a follow up. It was at this point that I decided to release "Throwing Apples at the Sun" through Emigre Inc.
Throwing Apples at the Sun was an "Enhanced CD." This meant that there was an audio CD, and an interactive CD-ROM on the same CD. 1995 was the dawn of the era of "New Media." This project may have been about 48 months before it's time. The release of Throwing Apples at the Sun, was not the smash hit that I believe Rudy was looking for. The simple fact is, in 1995 the Macintosh computer was in great decline. The new media component of Throwing Apples was not cross-platform. It was in accessible to windows users. Upon receipt of Throwing Apples, most users had little idea what to make of it, nor did they realize that it would also play pop songs in a standard audio CD player. My frustration with the technical limitations I was facing as a "new media" artist led me to propose a series of performances at HERE the Independent Art Center in SOHO (the birth place of the Vagina Monologues). Over the course of a six month run, I slowly built the "Throwing Apples at the Sun" performance piece from a technologically mediated poetry reading into a full blown multi-media spectacle.
The "critical" reception to the performance piece was encouraging. After the second performance I was asked by an attendee to perform in Italy. This began for me a period of performing all over American and western Europe. My performance schedule posed enormous professional challenges. Although I had the opportunity to perform at venus as diverse as; the Wooster Group, The Walker Art Center, Maison des Arts et de la Culture in Créteil, Opera Totale in Mestre, and in Lisbon at Experimenta, I would return home from performances to find creditors calling on the phone. Performance art in the 1990's was glamorous, and afforded beautiful hotel rooms and food but little money. It was extremely hard to run a fledgling design practice from the road (before web based work technologies were mainstream).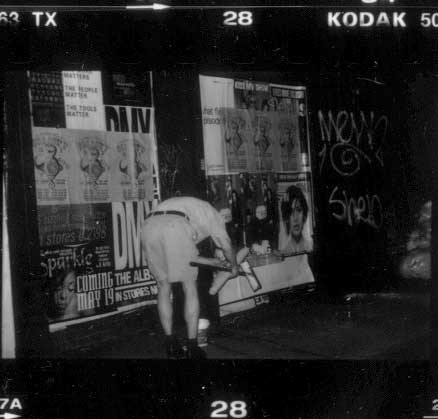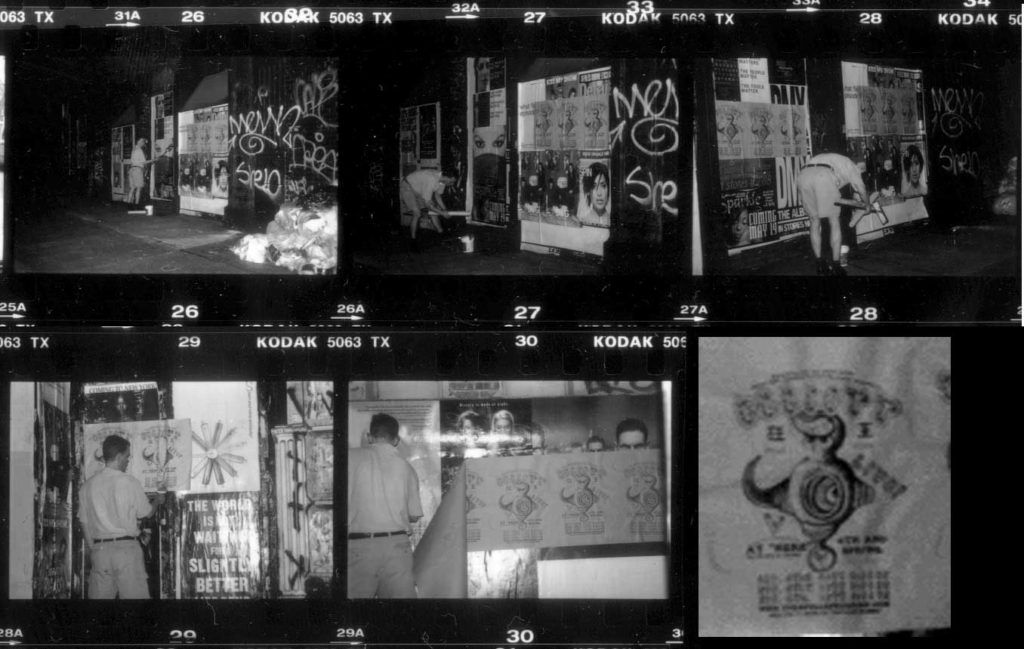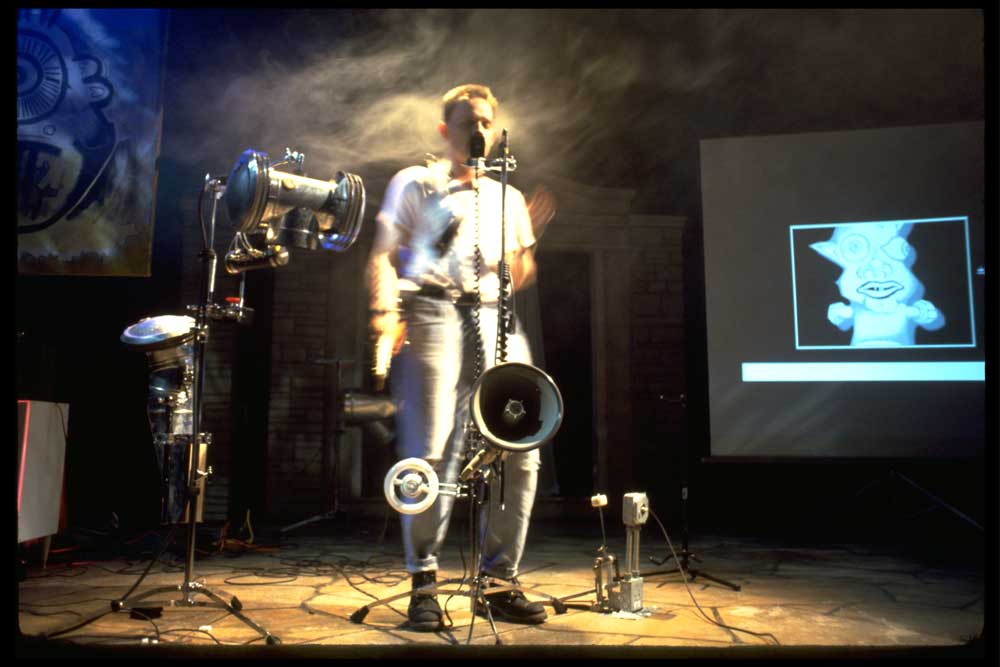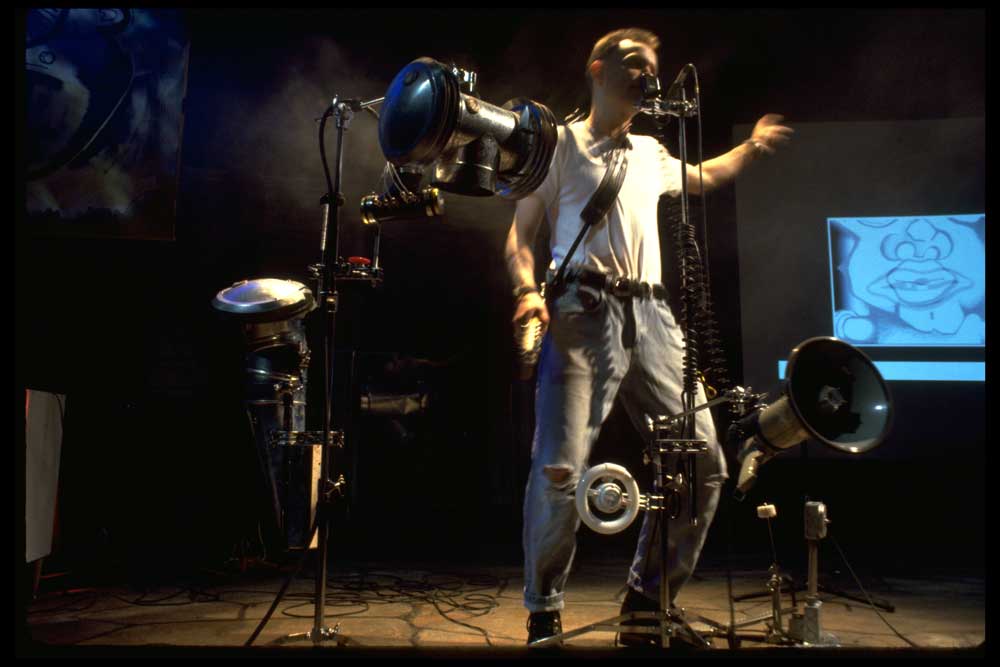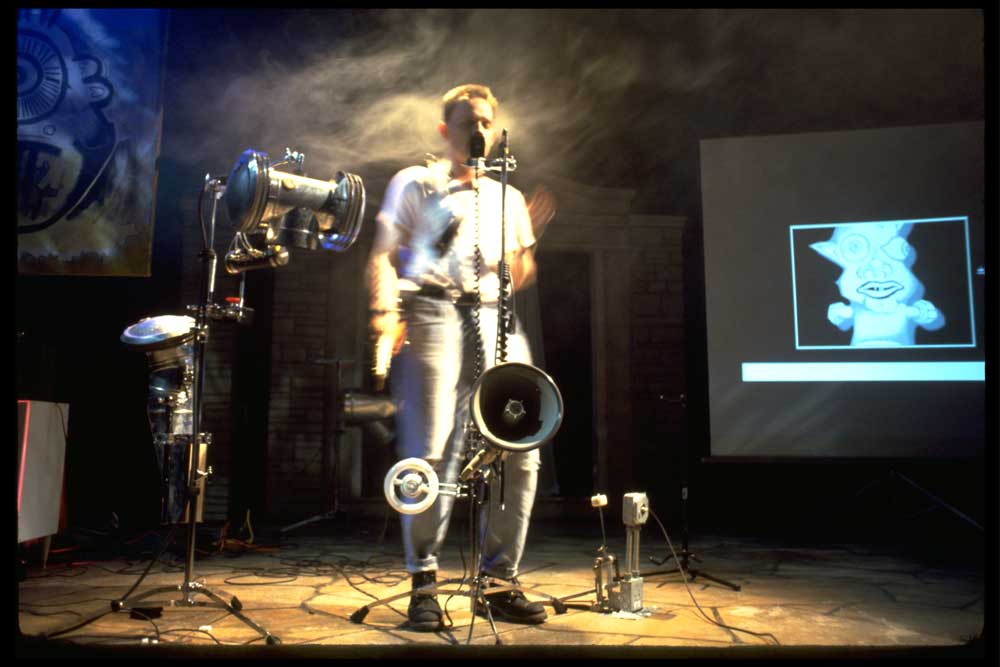 The Songs from Throwing Apples at the Sun
The Original CD Design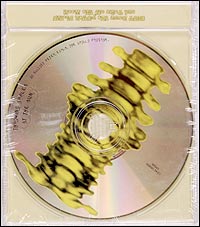 Throwing Apples at the sun (Excerpt). 1996.