The Latest News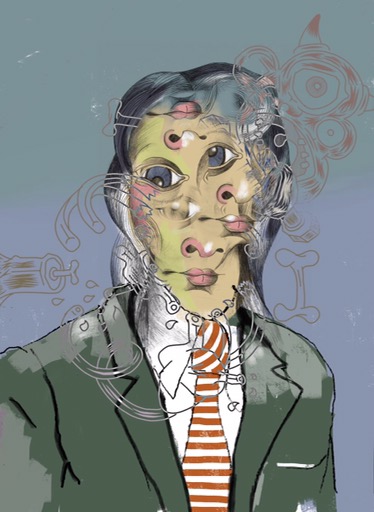 This limited edition giclée print is produced in an edition of 5. Each print is produced on archival 100% cotton heavy weight paper and is signed and numbered by the artist, Elliott Earls. This print is a digital preparatory cartoon (drawing) Elliott Earls used to concieve his oil painting "Death of a Salesman." The prints […]
New "Studio Practice" Episodes
Click Here to Subscribe to the "Studio Practice" YouTube Channel
This comment/response video relates to Episode 21 of Studio Practice.
What are the mechanics of making a formalist avant-garde design/art object? How is a the formailist avant-garde different than the historical avant-garde? how can you make more compelling art/design objects?
Celebrate the release of Episode 20 with this special Dank Meme Edition. In this episode Elliott Earls under takes an exploration of the cultural importance of the dank meme.
The strange masonry work of architect Eliel Saarinen inspires the signage and identity for a rustic northern Michigan studio.

In Episode 18 of Studio Practice, I referred to a précis (a diagram) of my argument outlining the "problem" with the field of Visual Communication and Graphic Design. you can find a .PDF file of the précis below. See Episode 18 for an explaination. Download a high resolution version of the précis by clicking on the link below: Episode 18 […]
What's the "problem" with the field of Visual Communication and Graphic Design? In this episode of Studio Practice, Elliott Earls discusses the relationship between philosopher Morris Weitz Open Concept of Art, and it's relationship to design. Part 2 will continue the argument. SUBSCRIBE to the channel here: https://goo.gl/L4FsHI Purchase a limited edition print or sculpture by […]
In this episode the British teddy-boys, mods, skinheads and punks serve as a point of departure for Elliott Earls to make a case against the global influence of Dutch graphic design. Elliott draws on the work of Dick Hebdidge and his theory of subculture development to suggest another method for moving your work to a […]
"Cycloptical Power In A Culture Ruled By Narcissism (Oblique)" is a 22 x 30 inch, three color hand pulled screenprint. Elliott Earls walks the viewer through the design and production process. The print was produced in an edition of ten.
Narcissism in art and design is a pervasive component of our contemporary cultural landscape.The allure of the self can be too powerful to resist for many artists and designers. Episode 12 provides you with a few critical tools for the next time you are forced to contend with this prickly beast. Harold Bloom's book "Genius" […]
Cognitive Expressionism as an approach to both Art & Design is a statement of defiance in the face of institutionalized stupidity. What is institutionalized stupidity? What is Cognitive expressionism? How can you incorporate these things into your studio practice and stand up to the stupification of our culture? Episode 14 of Elliott Earls Studio Practice […]
This episode is a quick follow up to Episode 13's  discussion of the relationship between critical theory and making. Comments by Doctor Kobra and the designer Scott Klinker set the wheels in motion.
A close look at the machining of one of Elliott Earls' limited edition objects provides the background for a discussion of how critical theory relates to practice. In this episode Elliott provides a suggestion for helping you move your studio practice to a more contemporary space. This episode also features Joshua Ray Stephens as the Unholy […]